Our 8th year has come and gone on October 15th, but
we will be back October 14th 2023 ….
Until then Check out pics and video of the past events on our Facebook page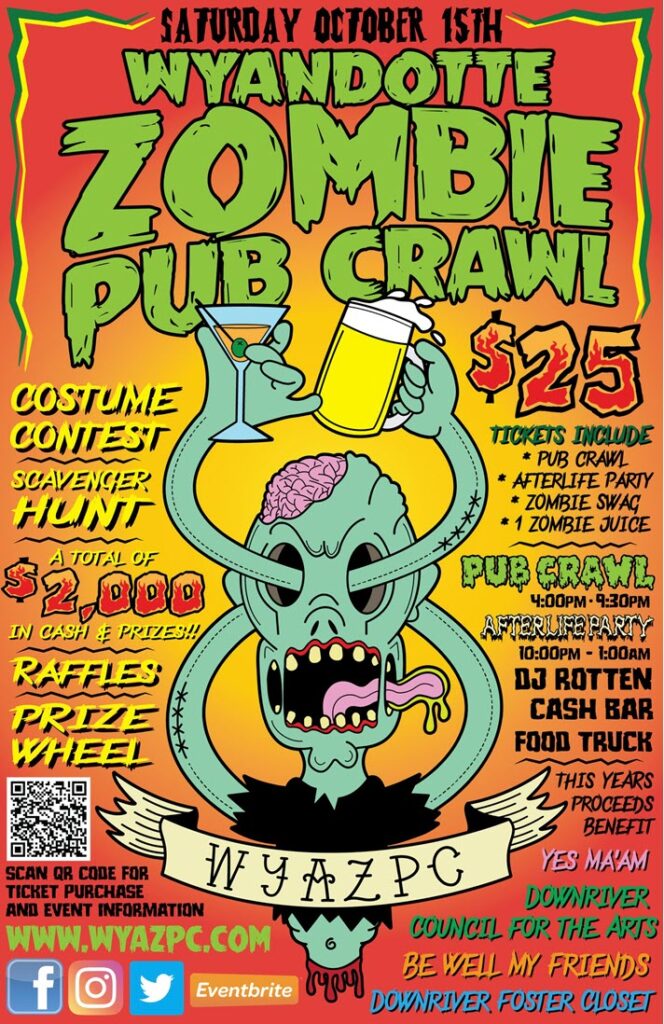 Hosted by BE WELL MY FRIENDS
The Wyandotte Zombie Pub Crawl is an annual crowd-fundraiser every October that brings hundreds of zombies together who have purchased an event ticket to crawl some of the best bars in Downtown Wyandotte and then bash at the Afterlife Party.  The WYAZPC is hosted by Be Well My Friends, which is a 501(c)(3) that raises money to help people, organizations and charities of the Downriver.  The net proceeds of the 2022 event will be distributed to the "Yes, ma'am" program at the Wyandotte Henry Ford Hospital, Penrickton Center for Blind Children, Downriver Foster Closet, Wyandotte Soup Kitchen, and Be Well My Friends.
---
Thank You to Sponsors of the 2022 Wyandotte Zombie Pub Crawl
28 Days Later Sponsorship Level Donation of $2,500
Balcom Family Foundation
Green Acres
On the Rocks / Sushi Bar and Japanese Bistro
World War Z Sponsorship Level Donation of $500
Jim and Debbie Branscum
Rhonda Dorton
Trinity Transportation
White Furniture
Paranorman Sponsorship Level Donation of $150+
A Serendipity Cakery and Ice Cream Shoppe
Bobcat Bonnies
Captain's
Dotte Pub
Firehouse Pub
Franks Pizza
Gizzmo's
Glow Fish Studios
Modern Craft
Oak Barrell
On the Rocks
Sports Bar & Grill
Tacos & Tequila
The Detail Shop
Timbers and Treasures
Whiskeys on the Water
Wyandotte Beer Company
---